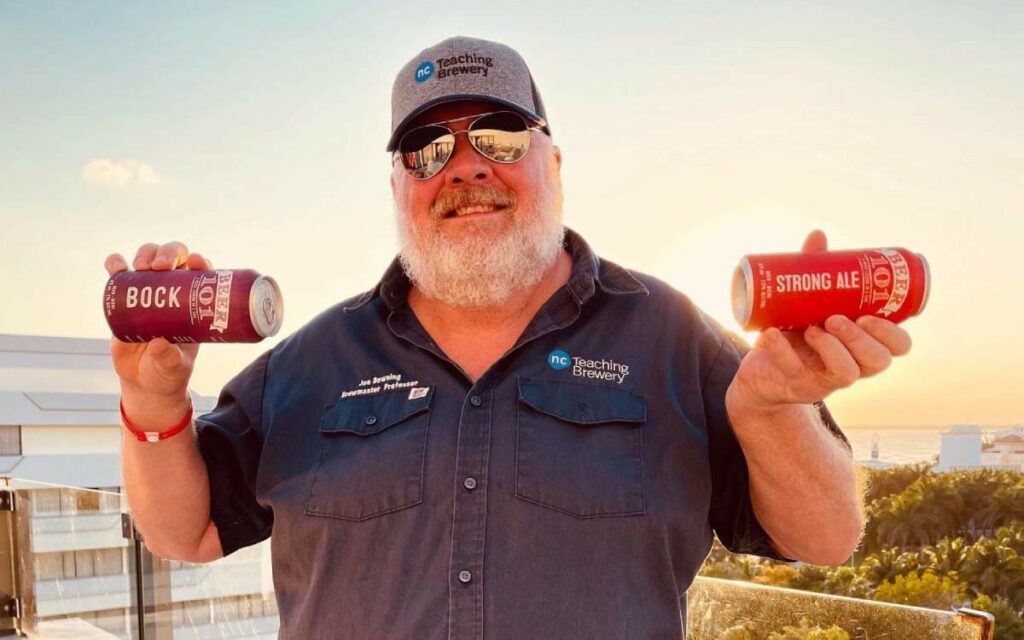 Professor and head brewmaster at Niagara College's Teaching Brewery Jon Downing stands with the school's two gold medal-winning creations. The Teaching Brewery was one of three local craft beer producers to take home hardware at last month's competition, where Beamsville's Bench Brewing landed on the overall Best-in-Show podium for its plum sour. Photo credit: Niagara College
After a year's delay due to the pandemic, Canada's newest beer competition finally took place at the end of last month, with a handful of local breweries bringing home hardware, including a Best-in-Show podium finish.
Developed and overseen by renowned beer expert Stephen Beaumont, the inaugural edition of the Canada Beer Cup saw an international panel of judges blind taste-test independent craft brews from around the country in 70 distinct style groups across 10 categories. 
Beamsville's Bench Brewing won both a silver in the Canadian Beer Style category and the competition's overall Best-in-Show bronze medal for its Culp on Golden Plums blonde sour ale. 
First introduced by the Lincoln beermaker in July 2021, Culp on Golden Plums is part of Bench's Foeder Series of beers aged exclusively in French Oak foeders from local winery Le Clos Jordanne.
Culp on Golden Plums takes its name from Lincoln's Culp family. The Culps have been farming the land where the plums were sourced since the 18th century, for seven generations.
"It's an honour to be recognized with so many other great Canadian craft breweries", Bench wrote on Twitter following the contest. "Congrats to all the winners!"
Niagara College's Teaching Brewery continued its winning ways in elite beer competition by nabbing no less than two gold medals. 
The Niagara-on-the-Lake beer-making institute, led by award-winning brewmaster Jon Downing, took the top spots in the English Style Old Ale and Bock categories for its BEER 101 Strong and BEER 101 Bock creations, respectively. 
"As this was the first time this Canadian competition – using a panel of both national and international judges – was held, it was great to have two of our student-brewed beers be awarded gold medals," Downing said in a press release. 
"The fact that both Beer 101 Bock and Beer 101 Strong have previously won golds in other national and international competitions highlights the consistency and quality of the brewing education that our students are receiving when the same brews win when brewed by different people – something that all students and graduates can be proud of."
Rounding out the three local award-winning competitors, Niagara-on-the-Lake's Exchange Brewery won bronze for its Homestead Farmhouse Ale in the Grisette/Farmhouse Ale category. 
The Exchange opened in 2016 and, like its teaching counterpart down the road, has fared well in recent years at the provincial, national, and international levels for a variety of its innovative brews. 
Last month's inaugural competition drew more than 1,300 entries from more than 200 craft breweries across Canada. Entries were judged by a 40-member panel. 
Vancouver's Callister Brewing was named 2022 Canada Beer Cup champion for its Wee Laird Wee Heavy Scottish Ale.
To see a full list of the winners click here.