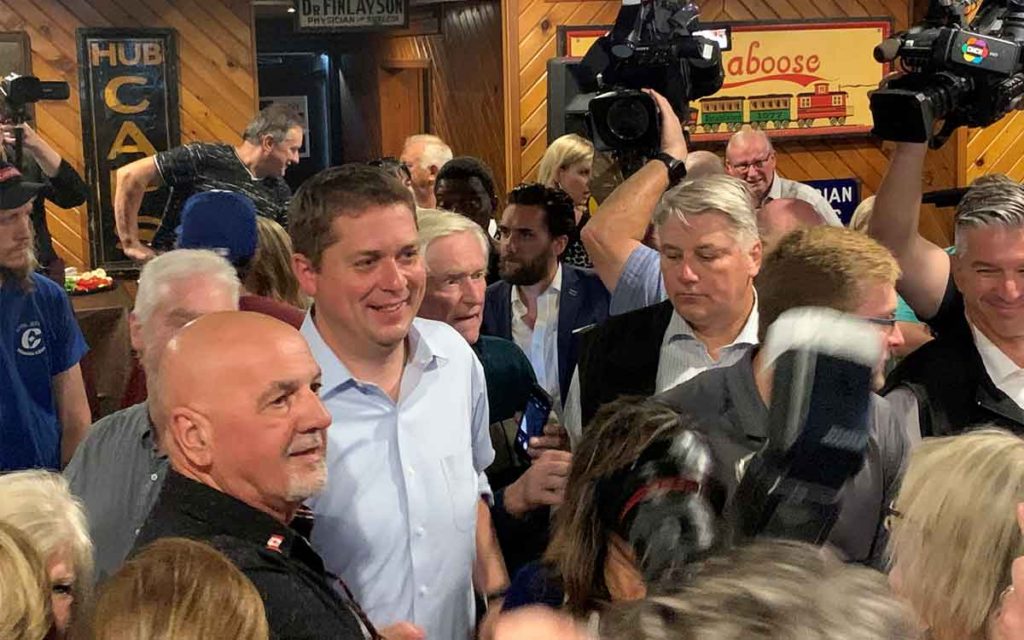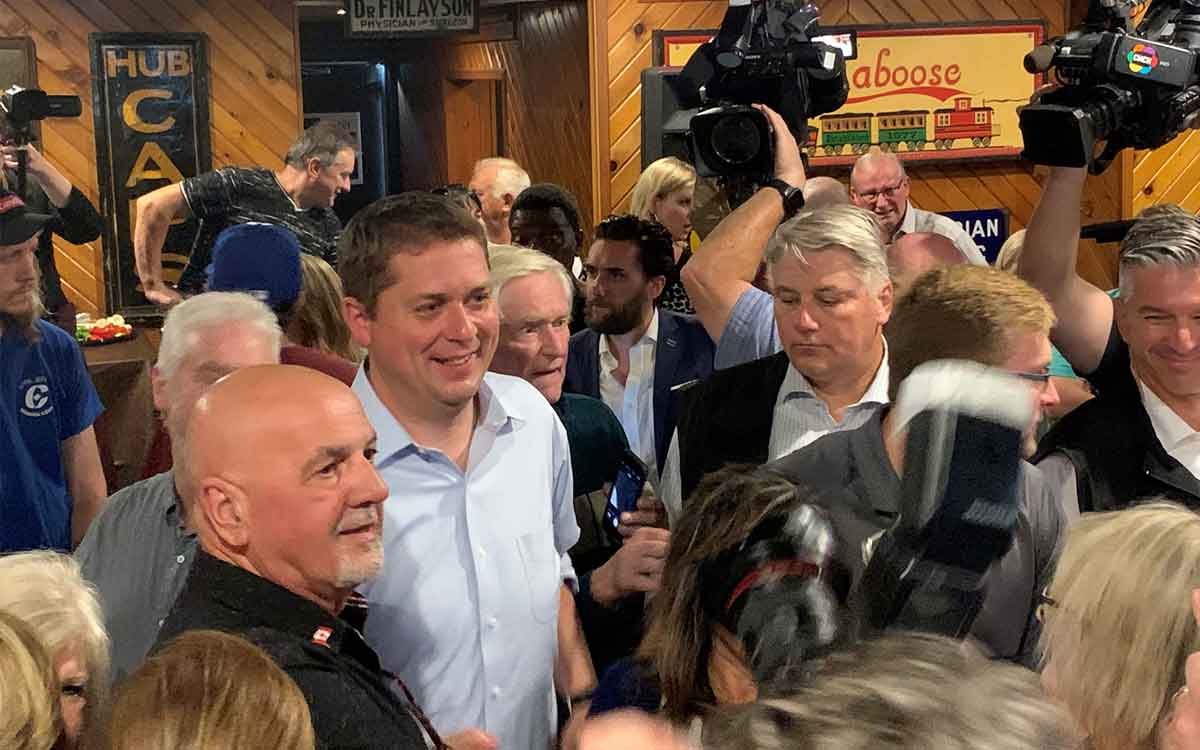 Conservative Leader Andrew Scheer at Cat's Caboose in St. Catharines.
UPDATED: September 24, 2019 – 1:35pm
Clearly both Liberal and Conservative party strategists think Niagara's seats are in play at least at this point of the 2019 federal election campaign. Both parties sent their respective Leaders Justin Trudeau for the Liberals and Andrew Scheer for the Conservatives to Niagara ridings yesterday. The response from supporters however was drastically different.
In St. Catharines, Scheer visited supporters at the Cat's Caboose restaurant at the bottom of Glendridge Avenue.  It's the second time that the party leader has been in St. Catharines to support local candidate Krystina Waler, a clear sign that the Conservatives have marked the St. Catharines riding as winnable. The riding is currently held by Liberal MP Chris Bittle. While many Liberal candidates have tried to distance themselves from Trudeau, Bittle has been a staunch supporter of his Leader.
Scheer arrived to a thunderous applause from the standing room only restaurant that saw hundreds of Conservative supporters pack every square inch of the eatery and bar. The energy and excitement was palpable amongst his supporters as they sensed the momentum swing in their favour after a brutal week for Trudeau that has had scandal after scandal plague his run at a second term in office.
The Conservative leader addressed the crowed saying, "It is all about trust and one thing we know after four years is and especially the last year is that you can't trust Justin Trudeau." Scheer rhymed off a long list of Trudeau's broken promises and criticized the Liberal's for their daily promises without providing any costing or policy to back them up. "Your taxes will go up massively to pay for them," said Scheer. One supporter yelled out, "It's easy to make promises when you're lying," referring to Trudeau's daily pledges.
Earlier in the day Trudeau made a brief stop in Niagara Falls. HIs bus pulled up to the side of the Portage Bakery where a group of supporters gathered to catch a glimpse of the current prime minister.  While those in attendance were happy to see their Leader, it was certainly a much smaller crowed than the ones Trudeau arrived to four years ago when his rock star persona attracted hundreds and sometimes thousands of adoring fans. At yesterday's quick stop Trudeau shook some hands and said hellos before quickly getting back on the bus to head out of town.  A small group of protestors gathered across the street with signs that read, "Stop Trudeau. Save Canada" and "Trudeau Hates Patriotism".
While Trudeau headed for the west coast, Scheer stayed in Niagara and the next morning was at Cracker Jack's Bar and Grill in Thorold to make an announcement about supporting Canadian small businesses. The Conservative leader said his party, if elected, would repeal Justin Trudeau's tax increases and cut red tape. Scheer said, "In the last four years, it has become more expensive than ever to run a business. Trudeau's Carbon Tax raised the price of gasoline and heating, making it harder to pay monthly bills. His payroll tax hikes hurt the bottom line, and his unprecedented tax hike on small businesses in 2017 – although Canada's Conservatives and business leaders came together to try to stop it – ended up costing small businesses even more."
Both leaders will continue to criss-cross the country heading towards the October election.