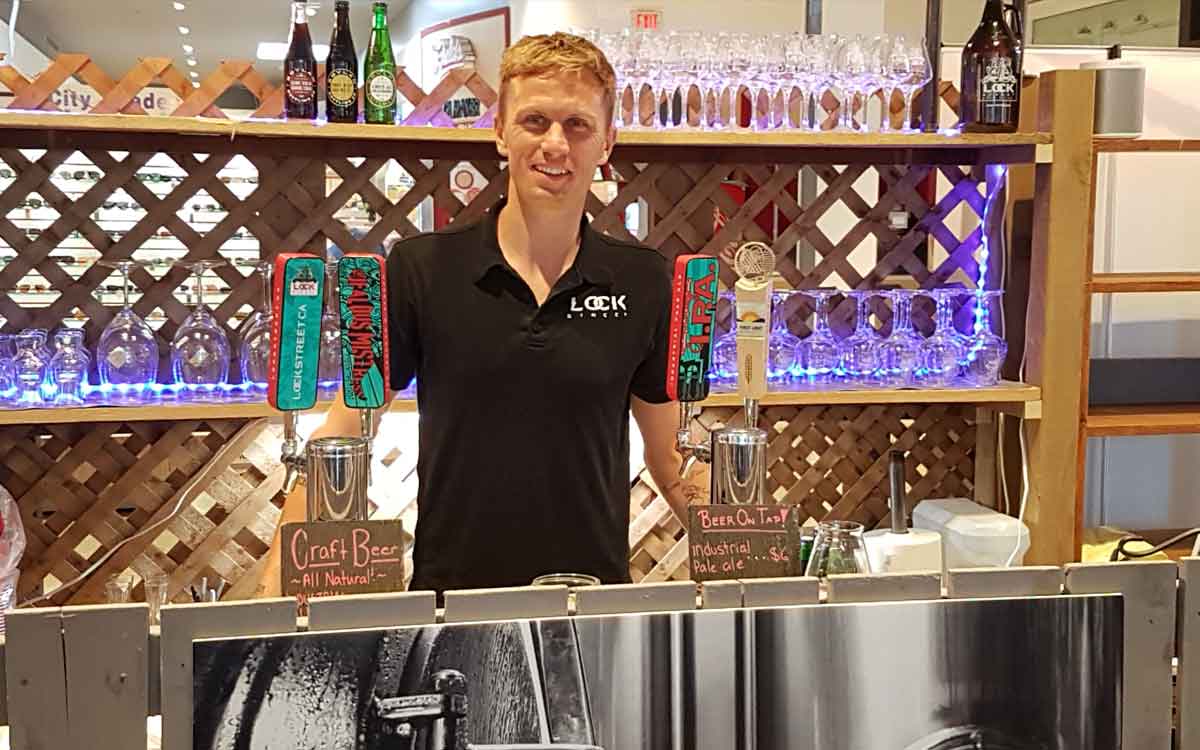 Wolfgang Guembel, founder of Lock Street Brewery has established a beer garden in the Pen Centre.
Shoppers at the Pen Centre in St. Catharines can now grab a cold craft brew or glass of local wine while perusing the stores.
What began as a temporary pop-up kiosk has turned into a permanent beer garden located between the Ricki's and Aldo stores. Back in October, Lock Street Brewery founder Wolfgang Guembel had the idea to try and bring his brews to the shoppers at the Pen Centre during Oktoberfest. The Lock Street Beer Garden was born and it was a success. It returned for the Black Friday weekend and then again for another 10 days over Christmas. "December was slamming every day from 10 a.m. to closing," said Guembel.
The craft brewery owner, which is based in Port Dalhousie, negotiated to have six pop-ups at the Pen over the course of a year. Given the response to the first three Guembel decided to pursue a permanent residence.
The original application process began on Dec. 12 and the permanent beer garden only just opened June 29. The official grand opening is today between 11 a.m. and 9 p.m. Everyone is welcome to attend.
While he's excited to finally be able to pour beer and wine to thirsty customers, Guembel said the experience was certainly an eye-opener to the level of bureaucracy a business owner has to go through to get up and running. While Guembel appreciates there needs to be a proper process he said often times there would be conflicting instructions and guidance between the municipality, the region and the fire department. At one point two mediators, one from the city and one from the region, were brought in.
Now that all of the hurdles have been jumped through, Guembel said he's looking forward to serving some truly handmade craft beer and local wine to Pen Centre bargain hunters. Currently there are four beers on tap plus one other Ontario craft beer. The wine partner is Megalomaniac Winery and Guembel is in the process of trying to secure a spirits and cider partner. The Lock Port honey brown brew uses local honey from Rosewood Winery.
The beer garden has capacity for 30 people and has tables and chairs for those shoppers needing to get off their feet. John Bragagnolo, the regional director for the Pen Centre is very pleased with the latest edition to the mall. "We're really excited about the partnership," he told The Niagara Independent. "Having it be a local company makes it more special. Wolfgang's persistence and patience made this happen."
Bragagnolo said the response from customers during the first three pop-ups was "incredible". He said having a permanent beer garden in the middle of the mall, "creates a unique atmosphere".
Guembel said he has a vision to bring his beer garden to more shopping malls across the province. "I always try and think outside the box."