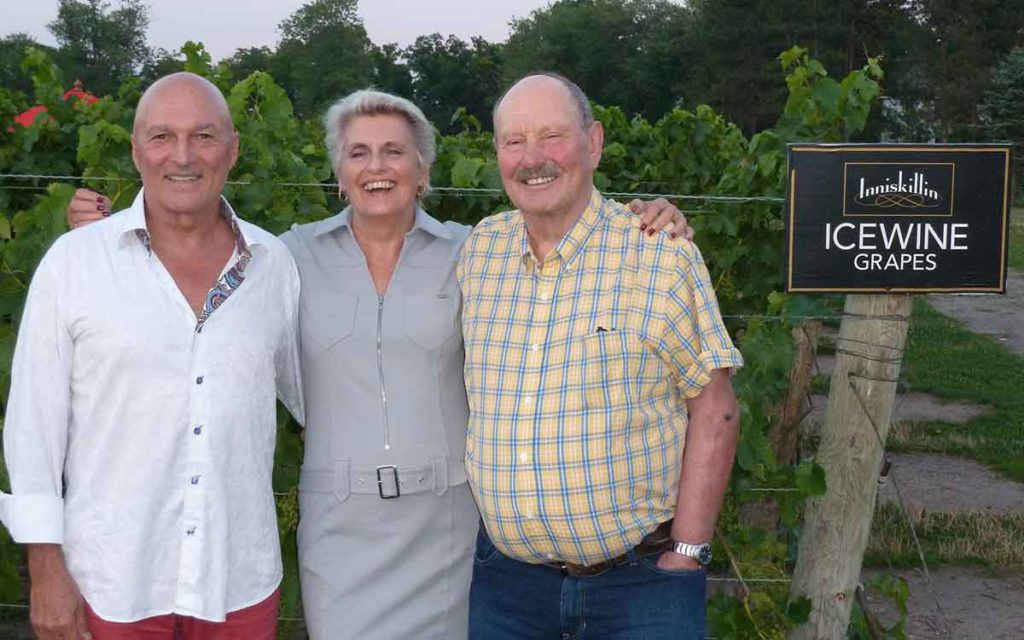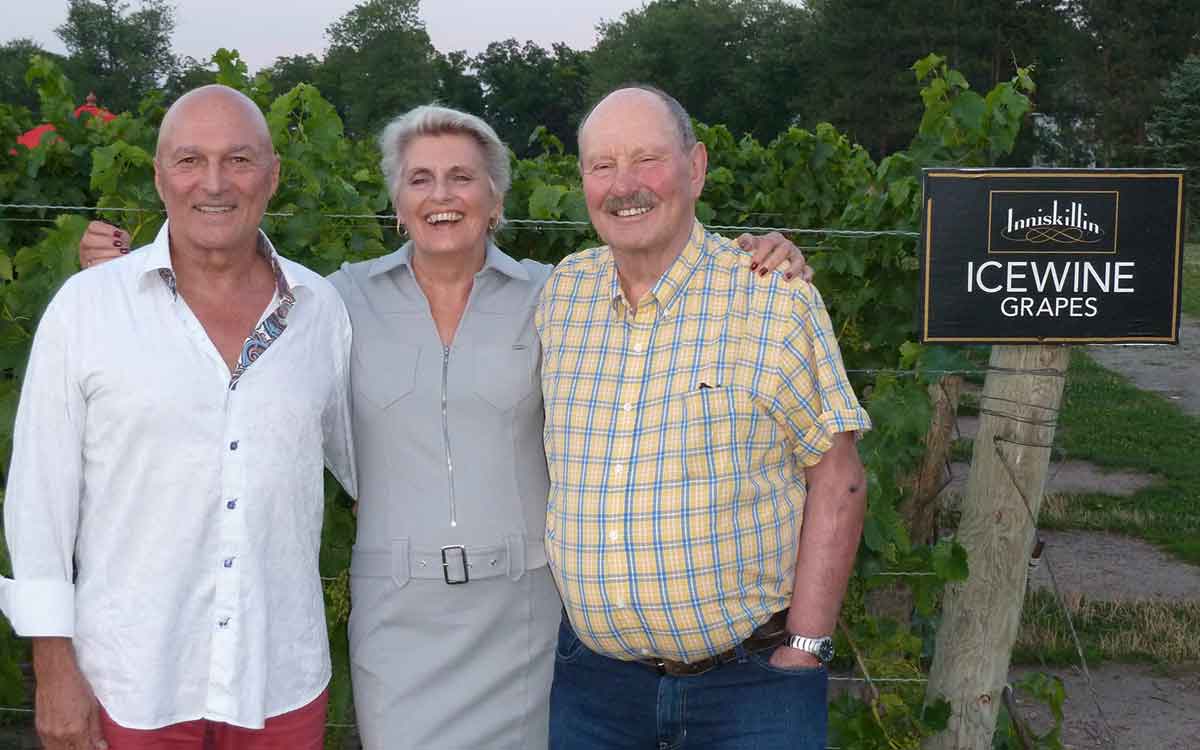 Debbie Pratt at her 2014 retirement party with Donald Ziraldo (left) and Karl Kaiser. Supplied photo.
Debi Pratt started keeping a scrapbook during her first days with Inniskillin Wines, then Vincor and Constellation Brands. It will come in handy as reference material for when Pratt writes her acceptance speech, one she will deliver this Friday night when she is presented the Lifetime Achievement Award for her four decades of leading public relations and marketing not only for the winery that employed her but Niagara's wine industry as a whole.
"It was such an enjoyable time at Inniskillin and in the wine industry," said Pratt during an interview. This is her second Lifetime Achievement Award; the first was from the Ontario Tourism Association which she received six years ago. This time the award is being bestowed upon her from the Greater Niagara Chamber of Commerce and will be presented at the annual Women in Business Awards.
Pratt joked that receiving a lifetime achievement award is bitter-sweet in that the recognition for a long and successful career is humbling but also comes with the connotation that the career is over. "There will be more to contribute, I've never worried about age," said Pratt with a laugh.
It's a fitting award for someone who spent the vast majority of her working life promoting Niagara's wine industry beginning in the early days when that was no easy task. The former elementary teacher turned public relations professional arrived at the very beginning when wine industry icons Donald Ziraldo and Karl Kaiser began their mission of producing top quality wines using Niagara grown grapes. Pratt said in the beginning she did more sales and "a little bit of everything" because the company was so small.
While Ziraldo and Kaiser were certainly pioneers in Niagara's wine industry, Pratt is also quick to give credit to other key players like Len Pennachetti, Paul Speck, Klaus Reif and Paul Bosc. "We all needed to work together especially in the early years," explained Pratt. "Everybody had their own story to tell but we were all linked." She also noted the increasing number of women who now play a leading and important role in Niagara's wine sector.
Pratt's teaching background came in handy in the early years as educating wine drinkers, both new and experienced, about Niagara made wine was critical. "I literally had a map made that showed Niagara on the 43rd latitude which is actually more southerly than the burgundy and Bordeaux regions." She said in the late 1970s it was a tough sell to get people to believe Niagara was making quality wines. "It really was an underdog story against all odds."
Her PR and marketing plan was simple.  "We needed to build credibility and educate the consumer. That was our marketing philosophy." She said you can't tell a consumer what wines they like and dislike. "People needed to understand how we were able to grow the grapes in Niagara and how we were able to produce premium wines." Pratt explained that in the early years they knew why people were skeptical of Niagara made wines so that's where she focused her public relations and marketing efforts.
Two other important factors that Pratt points to in helping put Niagara wines on the world stage are the development of the Vintners Quality Alliance or VQA which guarantees the high quality and authenticity of origin for Canadian wines as well as the production of Icewines. "There was lots of curiosity about Icewines," said Pratt. She said they really caught on in Japan but again she had to resort to her teaching background to explain to consumers how Icewine was made because people just didn't believe or understand the process. "We had to do a video on picking Icewine grapes because nobody believed it."
Pratt's advice to young public relations or marketing professionals? "Be true to your product or business. Be authentic." She said it's important to personalize your brand. "When people think of Inniskillin they think of Donald and Karl."
Pratt said looking through her scrapbook really illustrates how far the entire Niagara wine industry has come. "It was hard in the early days but you just had to keep going."