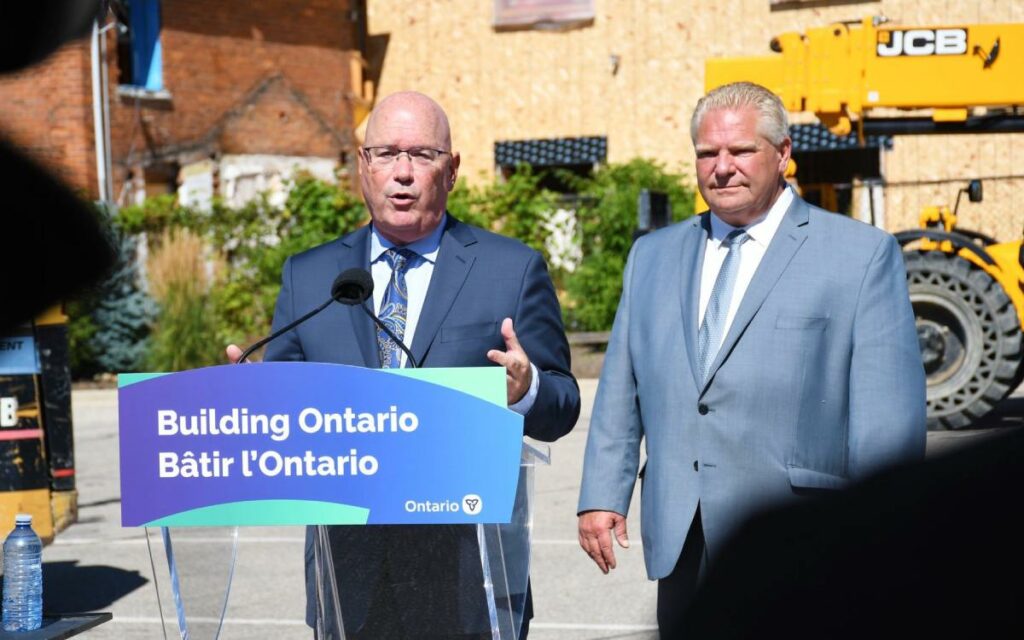 Minister Steve Clark (pictured) said the facilitator will be announced by September 11. Photo credit: Twitter/Steve Clark
After months of waiting, Niagara will soon know who, exactly, will lead a long-anticipated review of the region's governance system on behalf of the province. 
Speaking at the annual Association of Municipalities of Ontario (AMO) conference earlier this week in London, Minister of Municipal Affairs and Housing Steve Clark announced that Niagara's regional facilitator will be appointed no later than Sept. 11, 2023. 
He also confirmed that facilitators will be named for Durham, Halton, Waterloo, York, and Simcoe County. 
"These facilitators will be tasked with reviewing the structures that are in place in these fast-growing areas to ensure they're up to the job of delivering the efficient, effective, and accountable government that residents both expect and deserve," Clark said.
The facilitators, according to the province, will review whether certain upper-tier governments around Ontario "continue to be relevant to the needs of its communities or whether the lower-tier municipalities are mature enough to pursue dissolution." 
Back in May, Ontario announced that it was dissolving the Region of Peel, making the municipalities of Mississauga, Brampton, and Caledon independent, single-tier cities by Jan. 1, 2025.
Dissolution gained support from all three mayors of the affected municipalities. 
Niagara, with its two tiers of local government, 13 councils, and record-high politician-to-population ratio, has consistently been pointed out as a prime example of a bloated governance system. 
Premier Ford himself is even on record saying he believes Niagara, at the very least, has too many politicians (126 for less than 500,000 people). 
This, coupled with the fact that Niagara was one of three Regions to have its chair re-appointed by the province last year to ensure "continuity and stability" while the government works out plans "to reduce municipal duplication to deliver on shared provincial-municipal priorities" (Peel and York being the others), has led many to believe change of some kind is coming to Niagara. 
Whether this means elimination of the Region, mini-amalgamations, and/or simply a reduction in politicians is unknown.
However, some local governments are already preparing. 
Just two weeks ago, the West Niagara communities of Grimsby, Lincoln, and West Lincoln held a joint special meeting to discuss regional governance. 
According to a press release sent out by the municipalities, the purpose of the meeting was to "engage in a collaborative and proactive discussion concerning the potential future governance structure in the West Niagara Region" in the context of the provincial government's ongoing governance structure review. 
"It is a crucial occasion for our three municipalities to come together in the spirit of collaboration and shared purpose," said Mayor of Lincoln Sandra Easton. "Our aim is to pool our resources and knowledge, align our visions, and drive positive change for the betterment of our residents."