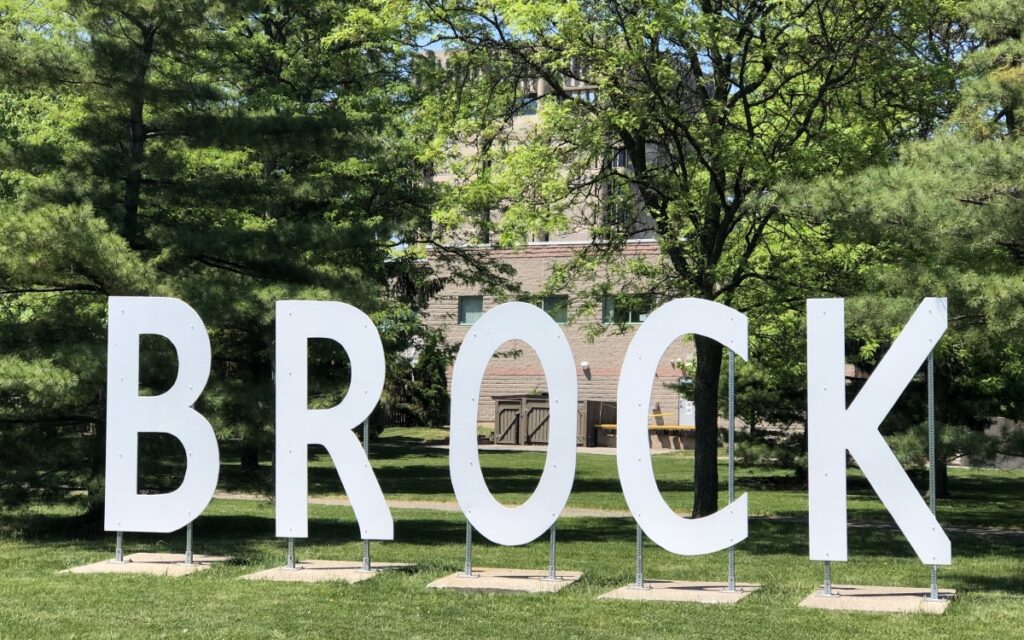 Announced a week before start of the term, Brock University will require all staff and students to wear masks in instructional spaces across campus this fall. The decision was made in consultation with the Brock University Faculty Association, the same organization that supposedly "pressured" administrators back in March to maintain the school's pandemic protocols after many colleges and universities started relaxing restrictions. Photo credit: The Niagara Independent/Nicholas Tibollo
A record number of incoming Brock University students moved into residences across the St. Catharines campus over the long weekend. 
According to the university, over 2,600 new Badgers lugged totes, duffle bags, and suitcases into their temporary homes away from home on Saturday and Sunday, filling the school's eight housing complexes to near capacity.  
The incoming students then gathered in their hundreds to kick off 'Welcome Week', a series of events and activities designed to help orient first-year entrants with all that Brock has to offer. 
Unfortunately, or fortunately (depending on one's perspective), when students start attending class this Wednesday, they'll have to do something they weren't required to do during move-in, nor at orientation events: wear a mask. 
Brock is one of only a small handful of post-secondary institutions across the country to mandate mask wearing in all instructional spaces to start the fall semester, including classrooms, lecture halls, seminars, teaching labs and other spaces when teaching by instructors is taking place.  
Per the institution, the decision was made in consultation with stakeholders, including the Brock University Faculty Association, the organization, of note, which reportedly "pressured" university administrators back in March to maintain mask and vaccination mandates long into the summer. 
Brock "paused" its on-campus mask and vaccination requirements on July 4.
While most schools, in announcing their intentions for the fall, reserved the right to reinstitute enhanced pandemic protocols if the COVID-19 situation worsens over the coming months, the vast majority of colleges and universities around Canada elected to give staff and students a chance at normalcy to start the school year. 
Niagara College and nearby McMaster University, for example, each maintained its respective "pause" on masking, though advised its community members that "policies may change".   
Niagara's acting medical officer of health Dr. Mustafa Hirji called Brock's masking requirement an "excellent decision." 
"I fully support (Brock University) in bucking popular sentiment & putting science + the safety of students & staff first," Hirji tweeted the day after the announcement. "I encourage everyone on campus to go further and keep those masks on whenever indoors. As well, I urge everyone to get 3 doses of vaccine."
Other online observers were less enthused by the decision. 
After revealing its intentions for the fall about a week ago, Brock got thousands of comments across its various social media platforms regarding the mandate, many of them negative. 
"This is beyond appalling," said Thorold mayoral candidate and current Brock student Damon Ford in a Facebook share. "I for one will not be participating… and will be advocating for a removal of this mandate immediately."
"Masks should always have been a choice. This is ridiculous," said Ryan Gerritsen on Twitter. 
"Glad I'm done, and even happier to see your students visibly angered in this comment section," remarked Matthew Ricci on Instagram. "You announce this a week before school after you've taken all their money. Joke."
A number of commenters, like Dr. Hirji in his previously cited tweet in fact, also pointed out the odd inconsistency of the policy, wherein masks must be worn in instructional spaces but nowhere else on campus. 
"So, I have to wear a mask in class but can immediately go to the bar or literally anywhere else in public and not have to wear one? Make that make sense for me please," said Ross Horsley via Instagram. 
Several others also pointed out that not even elementary or high school students have to wear masks, with the province announcing in early August that face-coverings would be optional in Ontario classrooms. 
"Not a single public school board requires this, nor do most places in society anymore. Who are making these decisions and why are the voices of the overwhelming majority being dismissed?", asked JW Stevens on Facebook. "Stop hiding. Stop promoting fear. Get back in tune with the real world."
According to a survey conducted by The Canadian Press in late August, only 14 out of 83 post-secondary institutions assessed – 17 per cent of colleges and universities across the country – will require staff and students to wear a mask in certain settings on campus this fall. 
At this time, vaccination continues to be only "recommended".