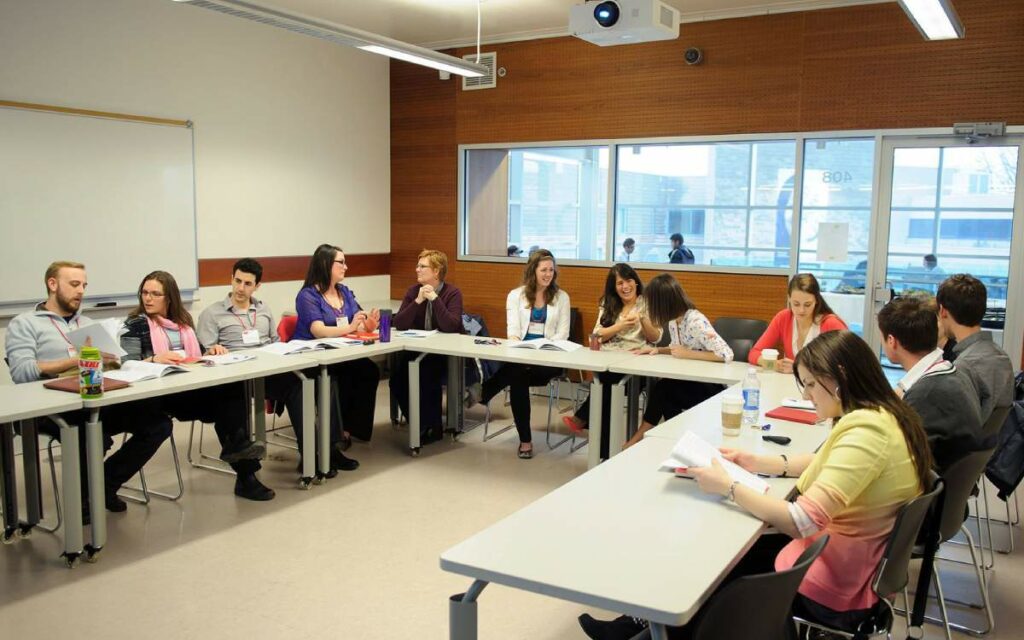 Students and faculty no longer have to wear masks in instructional settings on campus. Photo credit: Brock University
In a move that brings it in line with the vast majority of post-secondary institutions across North America, Brock University has finally dropped its on-campus masking mandate. 
As of Monday, April 24, Brock students, faculty, and staff are no longer required to wear masks in instructional spaces including classrooms, lecture halls, seminars, and teaching labs. 
"The use of masks continues to be strongly recommended everywhere on campus, especially when maintaining distance from others is not possible," the university said in a statement last Wednesday. 
"Members of the Brock community and visitors are asked to remain vigilant and to self-monitor closely for symptoms of COVID-19 and other respiratory infections."
Prior to dropping its mandate on Monday, Brock was one of the last holdouts in Canada to still require masks on campus in non-healthcare related settings. 
Most universities and colleges started dropping mask mandates last spring. 
McMaster University in neighbouring Hamilton, for instance, stopped requiring masks on campus outside of healthcare spaces on May 1, 2022. Niagara College dropped its respective mandate on July 4, 2022. 
Only a small number of Ontario post-secondary schools continued with mask mandates in instructional spaces into the fall 2022 term, with just Brock and Western University continuing into winter 2023. 
Western ended its requirement in February. 
As the school boasted in its recent statement, "Brock has been a leader in Ontario's post-secondary sector with respect to its public health guidelines". 
Last fall, when Brock announced it was maintaining mask requirements in instructional spaces into the new school year – one of only a handful of post-secondary institutions to do so – there was a great deal of criticism from the community. 
As reported by The Niagara Independent in September, after revealing its intentions for the fall term, Brock got thousands of comments across its various social media platforms regarding its mask mandate, many of them negative. 
"This is beyond appalling," said then-Thorold mayoral candidate and Brock student Damon Ford in a Facebook share. "I for one will not be participating… and will be advocating for a removal of this mandate immediately."
"Masks should always have been a choice. This is ridiculous," said one Twitter user.
"Glad I'm done, and even happier to see your students visibly angered in this comment section," remarked another observer on Instagram. "You announce this a week before school after you've taken all their money. Joke."
According to a public bulletin from the Brock University Faculty Association (BUFA) last spring, senior administrators at the school were reportedly "seriously considering" easing pandemic-related measures at the end of the winter 2022 term, but pressure from the union supposedly helped ensure all mandates remained in place. 
Brock completed its winter 2023 term final examinations on Saturday. The spring session starts next week.