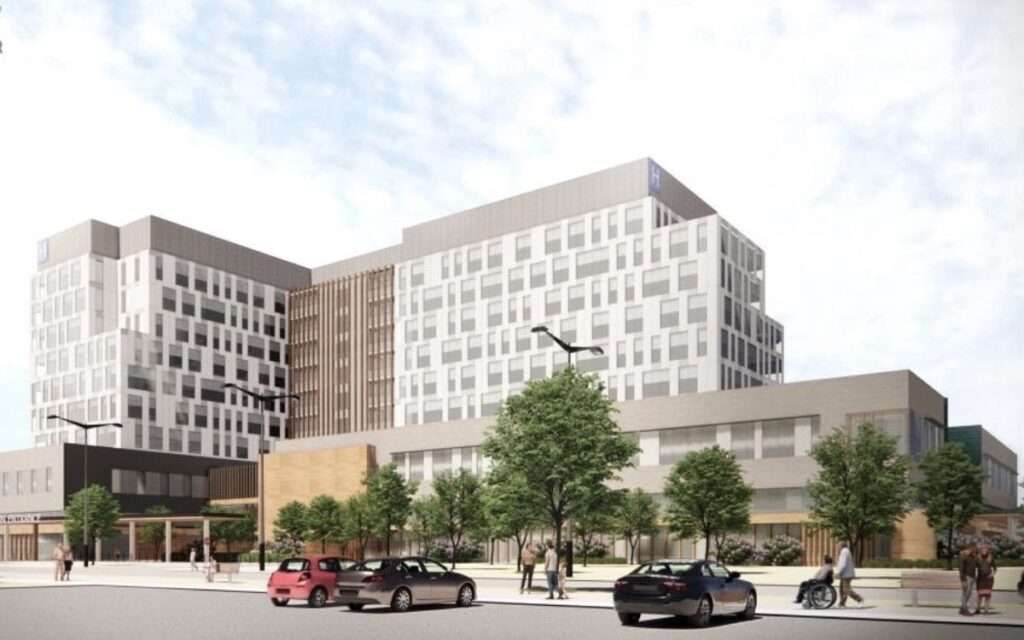 Infrastructure Ontario and Niagara Health will evaluate RFP submissions over the coming months and announce a successful proponent in early 2023, with construction expected to start shortly thereafter. Two teams are vying to design, build, finance, and maintain the over-$1 billion project. Photo credit: Niagara Health
Last week, Infrastructure Ontario announced closure of the Request for Proposals (RFP) stage of its multi-stage process selecting a proponent to design, build, finance and maintain the new South Niagara Hospital.
The provincial agency, in partnership with Niagara Health, invited three previously shortlisted teams to respond to the RFP in October 2021. 
A year later, two of the three invited teams successfully submitted proposals by the October 12, 2022 deadline: EllisDon Infrastructure Healthcare and Niagara Care Partners. 
The province and Niagara Health will evaluate the two submissions "over the next few months", with a successful proponent expected to be announced in early 2023. 
A fairness monitor is overseeing the entire procurement process.
Once a successful proponent is selected, work on the new hospital site at the corners of Montrose and Biggar roads in Niagara Falls can begin almost immediately. 
Since 2018, Ontario has invested some $20 million towards planning the South Niagara Hospital. The much-anticipated new facility will consolidate and expand acute care services in the area, replacing outdated infrastructure with high tech facilities and supporting better and more connected care in the region. In addition to emergency, critical care and surgical services, the South Niagara Hospital will feature several centres of excellence specializing in stroke, complex care, geriatrics and geriatric psychiatry, and wellness in aging.
To meet growing demand for care in Niagara, the new hospital is planned to have 469 beds – 156 more than the combined total number of beds at Niagara Health's Port Colborne, Fort Erie, and Niagara Falls facilities. Once the new hospital is complete, Niagara Health will continue to operate the existing facility in St. Catharines, along with the Welland campus.
The approximately 1.2 million square foot, 11-storey facility is slated for completion in late fall 2026 or early 2027.
The entire project will cost more than $1 billion, with funding sourced from the province, local municipalities, Niagara Region, and several private donors.
The Niagara Region has already committed $44.5 million to the project. The City of Niagara Falls and Town of Fort Erie are both expected to finalize their commitments in the near future, with the former projected to contribute around $30 million.
The full design, build, finance and maintain teams that successfully responded to the RFP are as follows:  
EllisDon Infrastructure Healthcare (EDIH)
Applicant Lead: EllisDon Corporation

Design Team: Parkin Architects Limited

Construction Team: EllisDon Corporation

Facilities Management: EllisDon Facilities Services 

Financial Advisor: EllisDon Capital Inc.
Niagara Care Partners
Applicant Leads: Amico Concessions Inc, Sacyr Concesiones, S.l., and SNC-Lavalin Capital Inc.

Design Team: IBI Group Architects (Canada) Inc.

Construction Team: Sacyr Construccion, S.A and Amico Design Build Inc.

Facilities Management: Sacyr Concesiones, S.L, SNS-Lavalin O&M Inc, and Amico Concessions Inc.

Financial Advisor: MUFG Bank Ltd