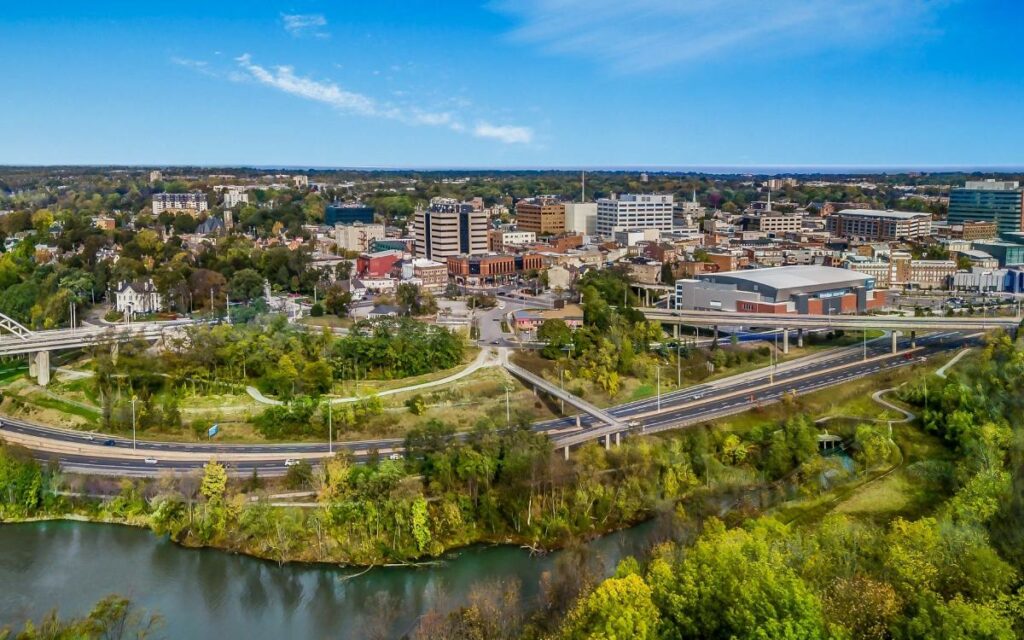 Back on May 9, Mayor Mat Siscoe outlined a "laundry list" of issues St. Catharines (pictured) is dealing with in relation to homelessness, drug abuse, and violence. Photo credit: City of St. Catharines
Last month, Mayor of St. Catharines Mat Siscoe painted a bleak picture of a downtown core overrun by hard drug abuse, violence, and public obscenity. 
As Siscoe described to Niagara Region's public health and social services committee on May 9, central St. Catharines has become a hellscape of people "using drugs, having sex, hanging laundry… defecating, urinating", "aggressive panhandling", graffiti, assault, and threats of violence. And the situation, according to Siscoe, is only "getting worse".
"I've been in this job now for six months and I'm struggling to see what we're doing to make the situation any better," the mayor said. "It is appreciably worse this year than it was last year, and last year was worse than the year before."
Since making his impassioned speech to councillors and staff a month ago, the City of St. Catharines has dismantled no less than two homeless encampments in the downtown area.
The first encampment in Richard Pierpoint Park, which was actually cleared right around the same time Siscoe made his speech but was publicized in the days thereafter, was reportedly removed to accommodate a national women's disc golf tournament on May 27.
The second encampment along Gale Crescent, which abuts Richard Pierpoint Park, was dismantled last Thursday, June 8. 
St. Catharines chief administrative officer (CAO) David Oakes told local media that the most recent removal of tents, sleeping bags, and shopping carts was due to "health and safety concerns on the road allowance."
"That's a concerning area for us both in terms of health and safety on the site, but also the location and proximity to the roadway," Oakes said. 
Homelessness and the myriad public safety concerns that come with encampments have been on the rise in St. Catharines for years now. 
The Gale Crescent area has become something of an epicentre for the issue, given its proximity to downtown, available park space, and nearby social service facilities like Start Me Up Niagara. 
As one resident of the condo building at 7 Gale Crescent told The Niagara Independent in 2021, the local situation is "brutal" and "overwhelmingly oppressive". 
"We used to love to walk in the park, but now homeless people are hanging out and camping there. It's been something of an impromptu settlement, along with a lot of trash and drug paraphernalia strewn about." 
"I'm nervous to invite friends over, because there's always some incident happening right on our doorstep," another resident of the area said at the time. "It's so disrespectful of us and our property. I will not go for a walk… too much harassment."
City officials last cleared a Gale Crescent encampment in August 2022.