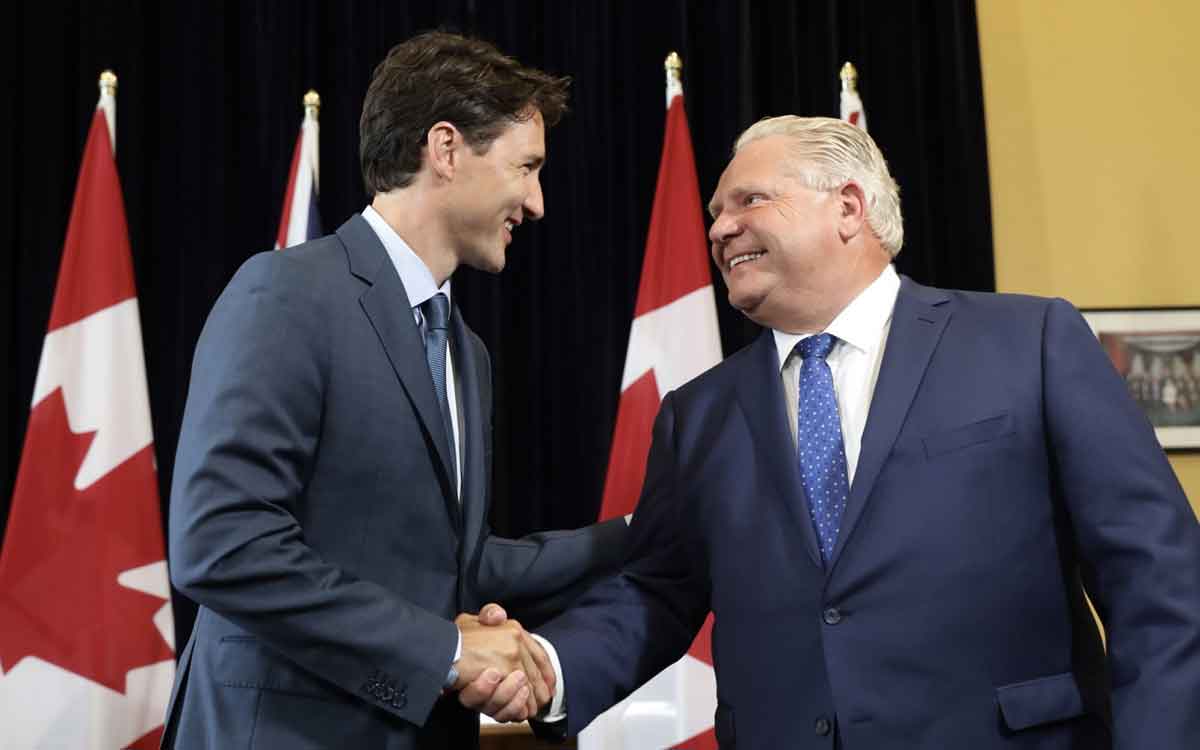 Prime Minister Justin Trudeau meets with Ontario Premier Doug Ford on July 5, 2018 at Queen's Park in Toronto. Photo from Justin Trudeau's Twitter account.
Boring old Canada had more than its share of excitement in 2019, yet many Canadians may have wished for less.  The year got off with a bang when early details of what became the SNC-Lavalin scandal hit the press in early February. In the weeks following, more and more information was revealed about how then Attorney-General Jody Wilson-Raybould stymied the wishes of Prime Minister Trudeau and others in his circle to intervene in an ongoing criminal legal proceeding against SNC-Lavalin.  Much of the media coverage focused on the shoddy treatment accorded to Wilson-Raybould by the Liberal leadership, and also her colleague Jane Philpott, who resigned over the government's mishandling of the matter. The scandal undermined the Trudeau government's credibility in a number of areas, including boasts about its feminist bona fides, transparency and respect for the law.  Throughout the unfolding scandal, the Liberal government repeatedly used its majority in the House of Commons and on parliamentary committees to squelch opposition inquiries intended to get to the bottom of what really happened. By the spring, public opinion polls showed a precipitous decline in the Trudeau government's approval ratings.  If an election had been held at mid-year instead of the fall, there is a high probability the Liberals would have been defeated, proving once again that in politics, as in many things, timing is everything.
When the long-awaited Vice Admiral Mark Norman trial was scheduled to take place later in the summer, with its considerable potential to once again embarrass the Trudeau government just weeks prior to the election, the Liberals chose to stay the charges against Norman instead of risking public exposure that would have further damaged their election prospects. But by that point, the bloom had come off the Trudeau rose, with many Canadians recognizing that many of Trudeau's original claims of running an open, transparent government, "doing government differently" than his predecessors, his supposedly devout feminism and oft-cited respect for the law were in tatters.  Later revelations of the various incidents of blackface in Trudeau's past cemented Canadians' views that they had been sold a bill of goods. Despite that, and aided by a largely sympathetic media anxious for taxpayer bailout monies and a lackluster Conservative campaign, the Liberals still managed to eke out a minority government in the October election. How stable that minority will prove to be is yet to be seen.
On the provincial front, things were similarly lively.  The election of Jason Kenney's United Conservative Party with a strong majority in April set the stage for even more federal-provincial conflict.  Premier Kenney wasted no time in joining Ontario, Saskatchewan, Manitoba and New Brunswick in strenuously opposing many federal government initiatives, notably the carbon tax and the federal government's continued policies to hamper the growth of Canada's fossil fuel industry.  In Ontario the Ford government seemed to finally find its footing with an overhaul of Cabinet and dismissal of some senior staffers after a year of missteps and policy reversals.  Leading up to the federal election, Premier Ford adjourned the legislature in early June and kept a low profile leading up to the October federal election, ostensibly at the request of the federal Conservatives. Despite Ford's lack of visibility, it is still believed that he negatively affected Conservative fortunes, especially in the vote-rich 905 region, and was one of many factors that saw a badly damaged Trudeau government re-elected.
Other notable political events of 2019 include Quebec's Bill 21 which bans religious symbolism for public sector employees.  Such a law would undoubtedly be decried by Trudeau and other federal leaders if any other province tried anything comparable.  It will be interesting to see if Bill 21 stands up to the inevitable constitutional challenges. Despite continued federal government claims they support the Trans Mountain pipeline expansion, minimal if any true progress has been made and there are still many roadblocks to the project. The fact that a slightly reworked North American Free Trade deal was finalized late in 2019 was positive, although it has yet to be ratified by the US Senate which is currently preoccupied by the Trump impeachment circus. On the economic front, after a few years of middling growth, various indicators began to go south toward the end of 2019 as Canada saw significant job losses in November and a decline in Gross Domestic Product in October. Following these negative economic developments, Finance Minister Morneau's recent Fiscal Update – conveniently scheduled for December 16 when the House of Commons was not sitting and opposition would therefore be muted – revealed the Liberals plan for even larger deficits than they had forecast in their budget just a few months ago. This deteriorating fiscal position has worsened concerns Canada is very poorly prepared for the inevitable economic downturn that many economists believe to be overdue. Oddly, when questioned about the ballooning deficits, Morneau commented "No one said it would be easy". But that's not true, as his boss, Justin Trudeau, told us years ago that it would indeed be easy since "budgets balance themselves".  Perhaps the Liberals are finally realizing just how hard it is to stem the tide of rapidly expanding government spending.  Unfortunately, this realization is coming a bit too late for Canadian economic fortunes.
Canada ended the year as a country more divided than it has been for some time, the separatist Bloc Quebecois once again in a power broker position in Ottawa, poisonous relations between the federal government and a majority of provinces, deteriorating economic data and heavily indebted governments and households.  Given the uncertainties ahead, Canadians may end up looking back fondly at 2019 despite its many disruptions and disappointments. Then again, the Raptors are looking pretty good.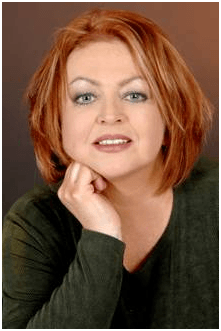 Catherine Swift is currently President and CEO of Working Canadians (www.workingcanadians.ca.  Prior to that, Catherine Swift had been with the Canadian Federation of Independent Business since September 1987, initially as Chief Economist. She became Chair in June 1999 after being named Chief Executive Officer in July 1997 and President in May of 1995.  Her various responsibilities included coordinating policy issues at federal, provincial and municipal levels of government, representing CFIB with politicians, government, business, media and other groups.
Ms. Swift has worked with the federal government in Ottawa holding several positions with the Departments of Consumer and Corporate Affairs, Industry and Communications. Her areas of specialization included corporate and industrial analysis and international trade. Catherine Swift has a MA in Economics.
She has published numerous articles in journals, magazines and other media on such small business issues as free trade, finance, entrepreneurship and women small business owners. Ms. Swift is a Past President of the Empire Club of Canada, a former Director of the C.D. Howe Institute and past President of the International Small Business Congress. She was cited in 2003 and again in 2012 as one of the top 100 most powerful women in Canada by the Women's Executive Network.