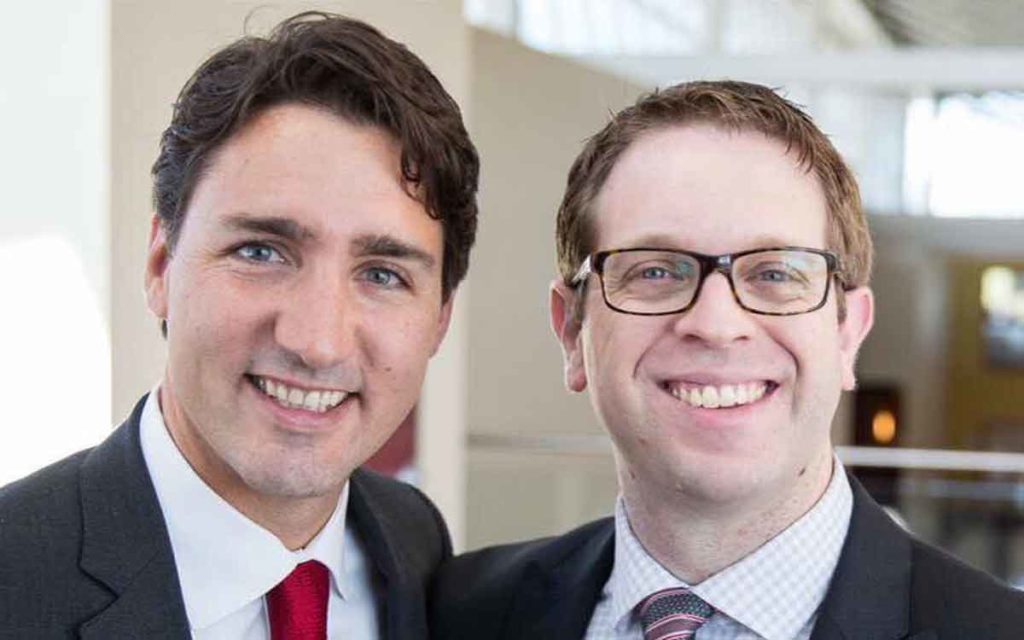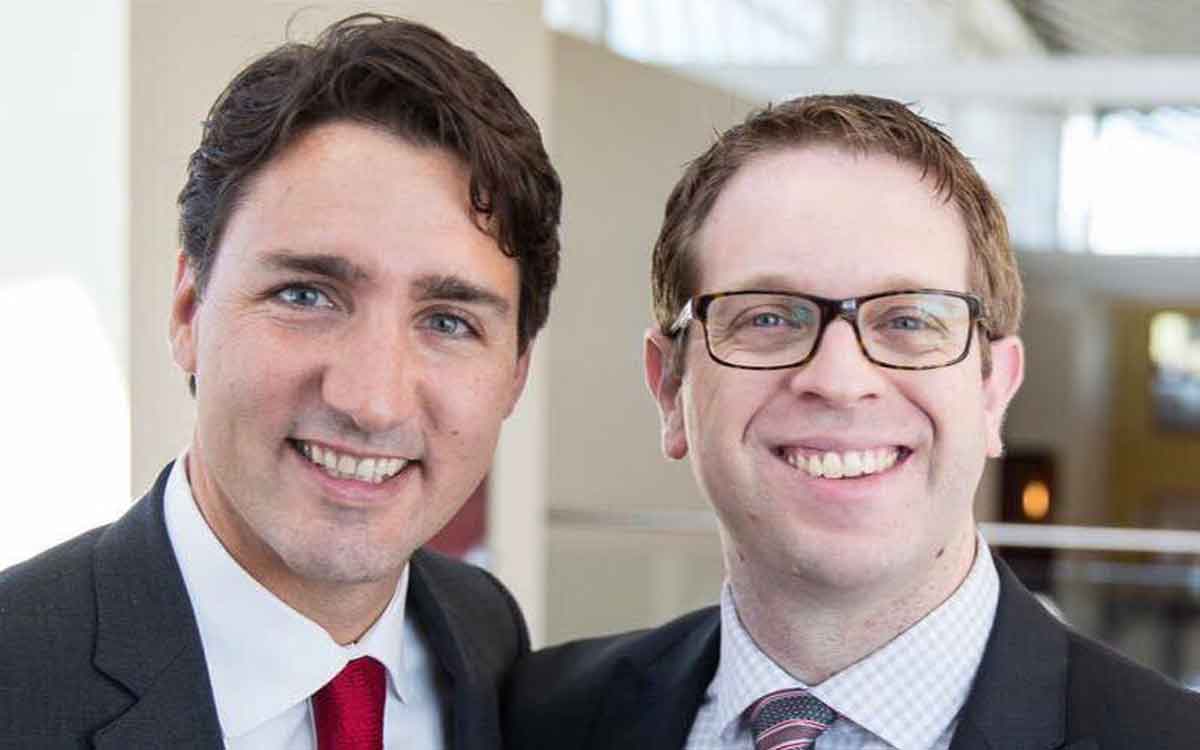 From left: Prime Minister Justin Trudeau with St. Catharines MP Chris Bittle seen in this Twitter photo from Oct. 20, 2016. 
St Catharines MP Chris Bittle was one of a handful of Liberal backbenchers caught feeding names into the Justice Minister's office.
From a Federal Government that has brought us the Jody Wilson-Raybould scandal, and from a Prime Minister and PMO that has on multiple occasions breached ethical standards and parliamentary rules, Canadians are now being informed of Liberal backroom machinations that, yet again, undermine the independence of the country's justice system. The latest violation of Canada's Madame Justice has been exposed this week by the investigative research of Globe and Mail's parliamentary affairs reporter Daniel Leblanc.
The G&M special report "E-mails reveal network of Liberals involved in judicial appointments"
may have gone unnoticed this week with the international Coronavirus scare and the cross-Canada illegal blockades. Yet, it is a serious matter when a country's political leaders establish a judicial selection process as an extension of their political office.
At the core of the G&M report is the fact that PM Justin Trudeau's government is appointing judges using a behind-closed- door partisan process that results in the selection of solely (capital L) Liberal individuals. A PMO spokeswoman has rebutted the claim stating the current selection process is a merit system that includes open applications, a short list drawn up by public advisory committees, and a final appointment to be made by the Justice Minister. However, Daniel Leblanc's investigation shines a light into an alternative process that is being coordinated out of the PMO, drawn from weighted input exclusively by Liberal MPs who forward their candidates from their network of Liberal Party workers and donors.
The clandestine orchestration of this partisan network to vet and select judicial appointments makes it impossible for Canadians to know whether judges are being chosen on merit or simply for their Liberal pedigree. The G&M found a series of emails that show direct involvement of Liberal MPs, ministerial staff members and party volunteers in vetting potential judicial candidates. Leblanc writes: "The dozens of e-mails between ministerial staffers from 2017 and 2018 detail widespread partisan involvement in the selection of new judges, offering unprecedented insight into the inner workings of the current judicial appointment process."
The e-mails from 2017 and 2018 also show a strained relationship between the PMO managing the internal partisan network and the Justice Minister – who at that time was Hon. Jody Wilson-Raybould. In one particular episode, emails detail a power struggle between the Justice Minister and her then cabinet colleague Jim Carr over appointments to the Bench in Manitoba. The ministers' wrestling match required the PMO to step in and referee, ultimately ensuring Jim Carr's candidate got the appointment he sought.
It remains uncertain how entrenched the Liberal selection process is since the Trudeau Government adjusted the judicial selection process in 2016. It was reported in the media in April 2019 that the PMO was using a private Party database called "Liberalist" to vet candidates for judicial appointments. In the latest emails, it has come to light that, since the 2016 changes, there were a handful of actively engaged Liberal backbenchers feeding names into the Justice Minister's office. St Catharines MP Chris Bittle was one of those backbenchers identified, as was Nathaniel Erskine-Smith, Anthony Housefather, James Maloney, Geoff Regan, Nick Whalen and the soon-to-be-named Justice Minister David Lametti.
The Liberal selection process has resulted in blatantly partisan appointments. In July 2019, six judges appointed in New Brunswick have links to Liberal MP Dominic LeBlanc. These appointments included MP LeBlanc's neighbour, a LeBlanc family relation, and three lawyers who helped retire debts from his unsuccessful 2008 Liberal leadership bid. Canada's ethics and government organization Democracy Watch flagged this egregious activity for the federal Ethics Commissioner claiming the Trudeau Cabinet hid details about the appointment processes not only from the public but from Parliament.
Democracy Watch's Duff Conacher states: "To stop this dangerously undemocratic and unethical appointment process for judges and watchdogs, the appointment process should be suspended until, as in the UK and Ontario, a fully independent public appointment commission is created to conduct public, merit-based searches for nominees and send a short list to Cabinet, with Cabinet required to choose from the list."
One MP who has been vocally critical is NDP MP Charlie Angus: "We saw the Liberals lose their mind when Stephen Harper did this. Then they get into power and they enact the same corrupt, lousy system. It undermines confidence in the judiciary. We need a full investigation, we need to find out how something as important as judicial appointments could have been handled basically through Liberal operatives."
The motive behind the Liberals actions are obvious. By appointing like-minded judges, a political party can impose in the courts their political mindset for years into the future, even after they are voted out of office. And Canadians can look south of the border at the American judiciary to see the outcome of such a partisan judiciary. The politicizing of the U.S. Justice System has evoked high-pitched political battles over U.S. Supreme Court vacancies. What is disconcerting is the Canadian selection process does not have this public scrutiny (and we are now fully aware it is less than transparent). Canadians should be very concerned over the potential abuse of justice – at an institutional level.
Maintaining a clear separation of the country's three branches of government [executive, legislative and judiciary] is precisely the focus of Supreme Court Chief Justice Richard Wagner in his recently penned opinion piece in The Hill Times. Justice Wagner writes: "The equilibrium of all three branches of government is what gives us our vibrant democracy, strong rule of law, and robust protections for people's rights and freedoms. Judicial independence is critical to the balance."
So, though this matter may pale in comparison to other crises currently seizing our citizens' attention, an independent judiciary is fundamental to a healthy democracy. And Canadians' trust in an independent judiciary is vitally important. Politicizing the judiciary selection process as the Trudeau Liberals have, undermines that trust – and they must be held to account for that.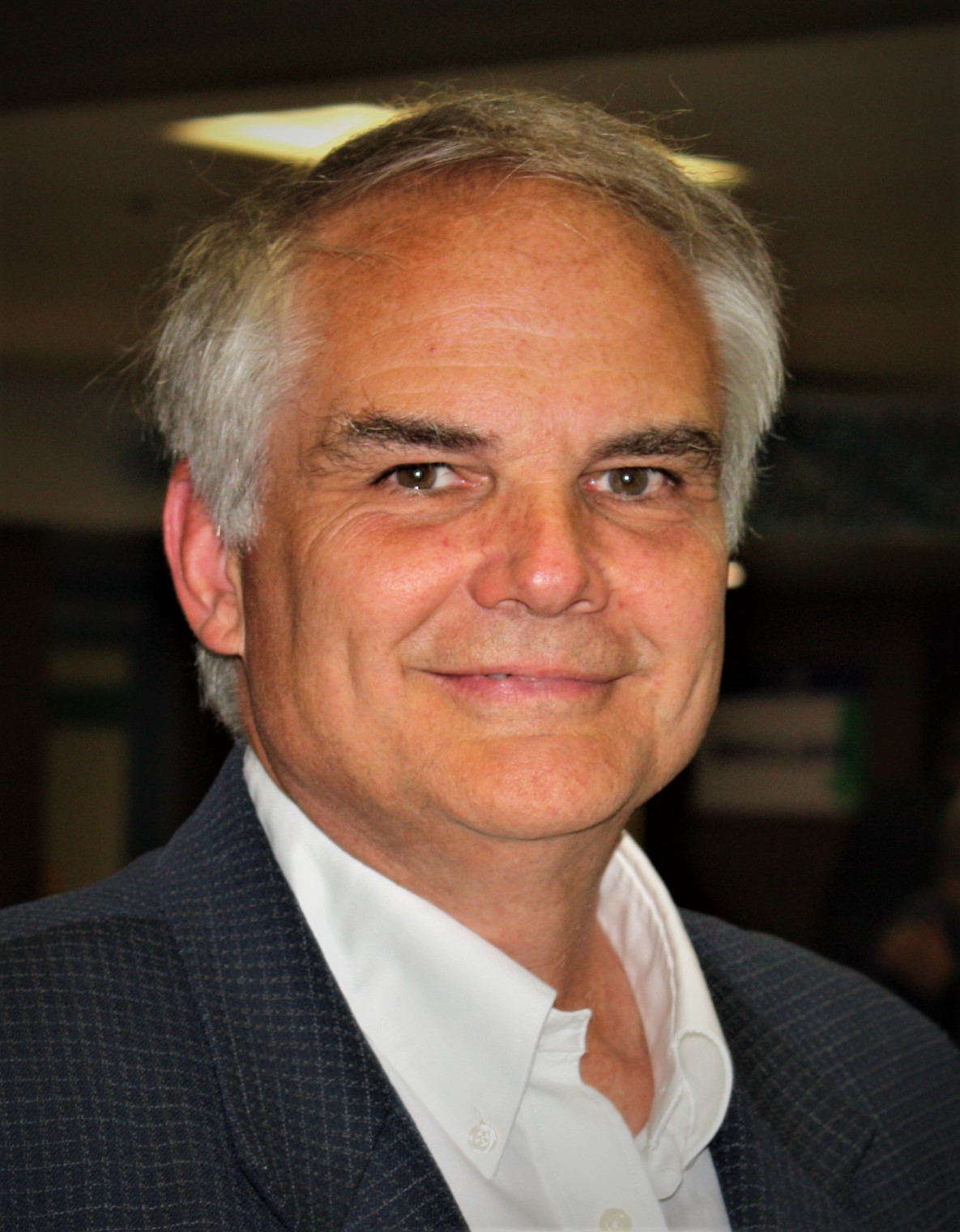 Chris George is an advocate, government relations advisor, and writer/copy editor. As president of a public relations firm established in 1994, Chris provides discreet counsel, tactical advice and management skills to CEOs/Presidents, Boards of Directors and senior executive teams in executing public and government relations campaigns and managing issues. Prior to this PR/GR career, Chris spent seven years on Parliament Hill on staffs of Cabinet Ministers and MPs. He has served in senior campaign positions for electoral and advocacy campaigns at every level of government. Today, Chris resides in Almonte, Ontario where he and his wife manage www.cgacommunications.com. Contact Chris at chrisg.george@gmail.com.