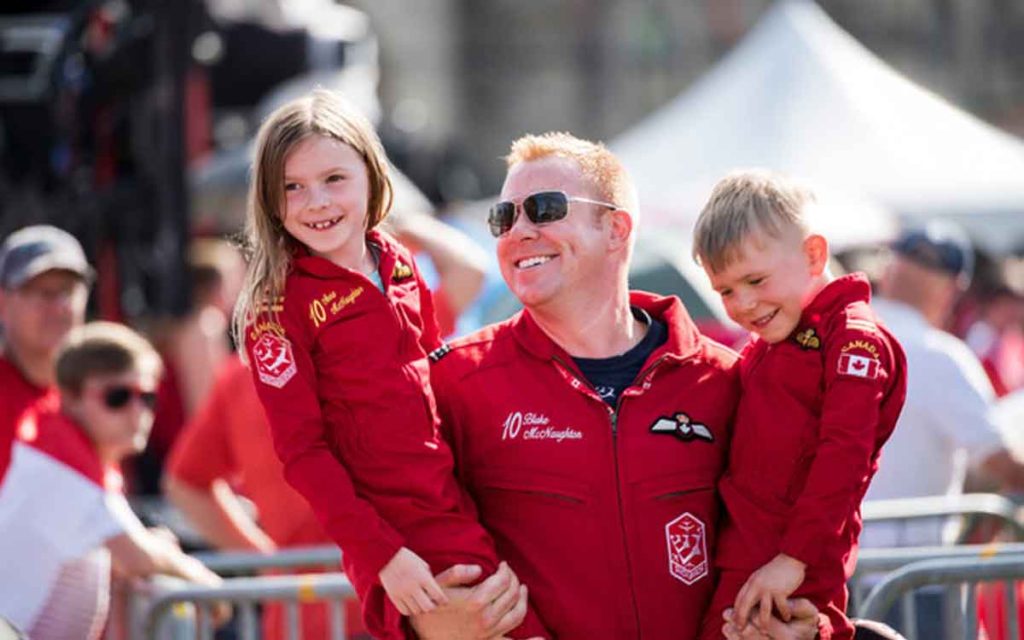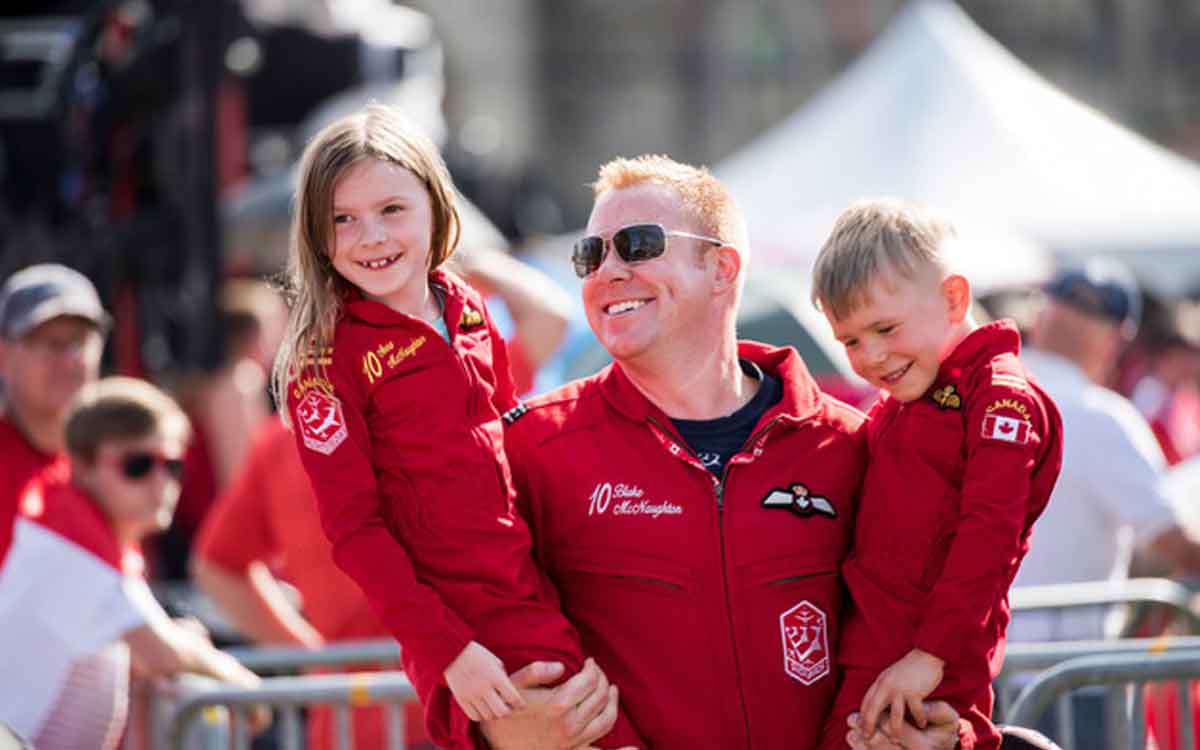 St. Catharines native and Snowbird pilot now instructor Captain Blake McNaughton with his kids.
As a young boy growing up in St. Catharines Blake McNaughton says he was fortunate to know exactly what he wanted to do as an adult. "I was very lucky in that at a very early age I knew I wanted to be a military pilot," said Captain McNaughton.
He not only met that goal but flew right past it on his way to piloting Snowbird number 10 for one of the most famous military air demonstration teams in the world. After flying for the team for the past three years, McNaughton is now an instructor and while his colleagues were dazzling on-lookers over the Niagara District Airport in Niagara-on-the-Lake earlier this week, Captain McNaughton was back in Saskatchewan helping train the next crop of potential Snowbirds as the Flight Safety Officer.
In an interview with The Niagara Independent, the gracious and humble pilot took the time to chat about what it takes to wear the iconic red flight suit and how he enjoys his new role teaching the rookies.
For McNaughton it started back in his family home at what he described as "the bottom of the Brock hill". Like most young Canadian kids he watched the nine twinkling lights of the red and white jets perform their awe-inspiring show and was hooked.  Unlike most kids, McNaughton was on a mission to fulfill his dream to be sitting in the cockpit piloting one of those jets and never wavered from chasing his goal.
His journey first took flight with the 128 Thorold Flying Dragons Air Cadet Squadron where he earned both his glider and pilot's license. He eventually decided to join the Canadian Armed Forces in 2002 and four years later McNaughton graduated from the Royal Military College of Canada. He then served at the Joint Task Force North Headquarters in Yellowknife, NWT, as an operations officer before proceeding to pilot training.
It was 2008 when McNaughton realized his dream of earning his wings and becoming a military pilot. Captain McNaughton took assignment as a Flying Instructor with 2 Canadian Forces Flying Training School on the CT-156 Harvard and the CT-155 Hawk. During this time at the NATO Flight Training Center, he accumulated over 1,300 instructional hours and has over 2,800 hours of military flying experience.
"I was very driven," said McNaughton when asked to describe his journey. He said it's a long road to becoming a Snowbird and it starts with basic military training or boot camp. After that is completed  there is an option to do more specific training. Once you earn your wings and accumulate enough hours pilots can reply to a message sent out once a year requesting applications to try out for the Snowbirds.
"About 20 to 30 candidates apply and only eight are selected just to try out," explained McNaughton. It's a grueling three week process where not only the candidates flying skills are being evaluated but also their attitudes. "It's important we get to know the new candidates as people. We are looking for well-rounded individuals to represent the men and women in uniform that are serving our country all around the world," said Captain McNaughton.  There's also the autograph sessions, handshakes and selfies with fans at every air show.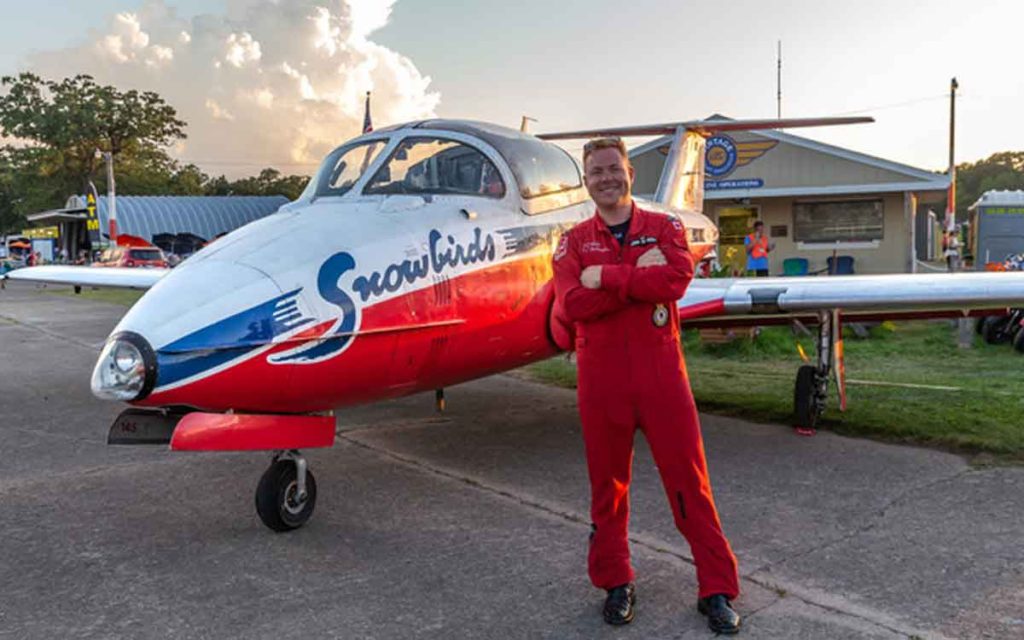 Once the successful candidates are selected they are informed in person but then they have to wait. "If you are advised you make the team then you go back to work for three or four months before returning to the base start practicing for the upcoming season."
McNaughton stresses that while the focus is often on the pilots wearing their renowned red flight suits, it is a true team that makes the 60 shows a year safe and successful. The CT 114-Tutor is an older jet but McNaughotn describes it as a "classic sports car" and the reason they continue to be in such good shape is because the Snowbirds technicians are "the world's finest".  "The pilots and the technicians have had excellent training their entire military careers," said McNaughton. Indeed, they are the best of the best on the ground and in the air.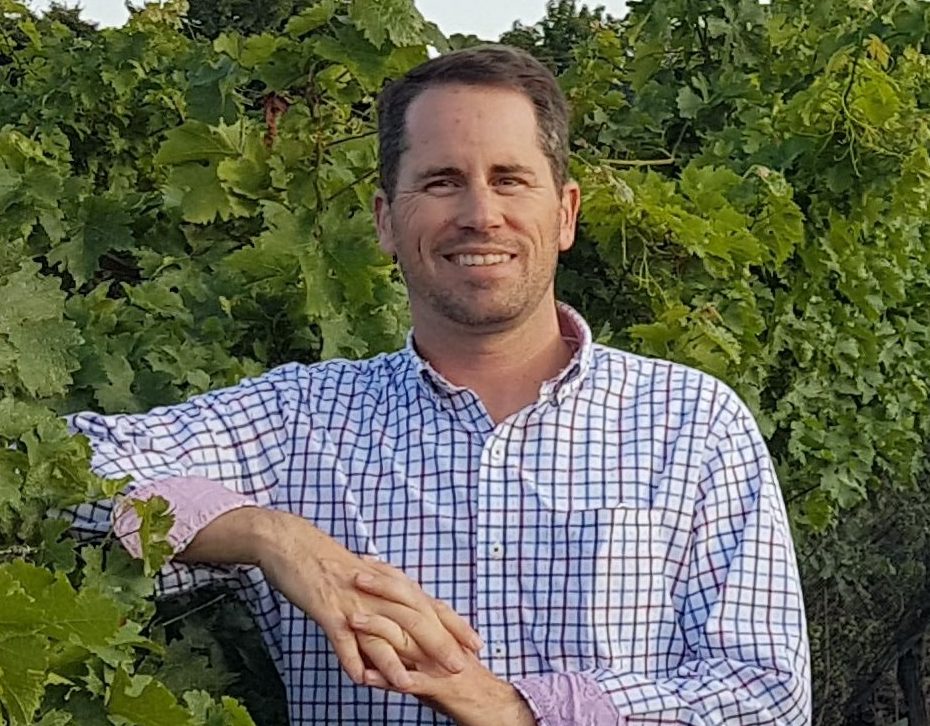 Kevin has spent over two decades as a public relations professional in a variety of sectors including professional sports, the arts, industry and healthcare.  After tiring of the daily commute to Toronto he returned to Niagara and launched The Niagara Independent, an online news source published twice weekly.
He is a graduate of Brock University, Niagara College and the Richard Ivey School of Business. He was named one of Niagara's 40 Under Forty in 2005.
Kevin is most proud of his twin daughters. He is also a triathlete and four-time Ironman finisher.