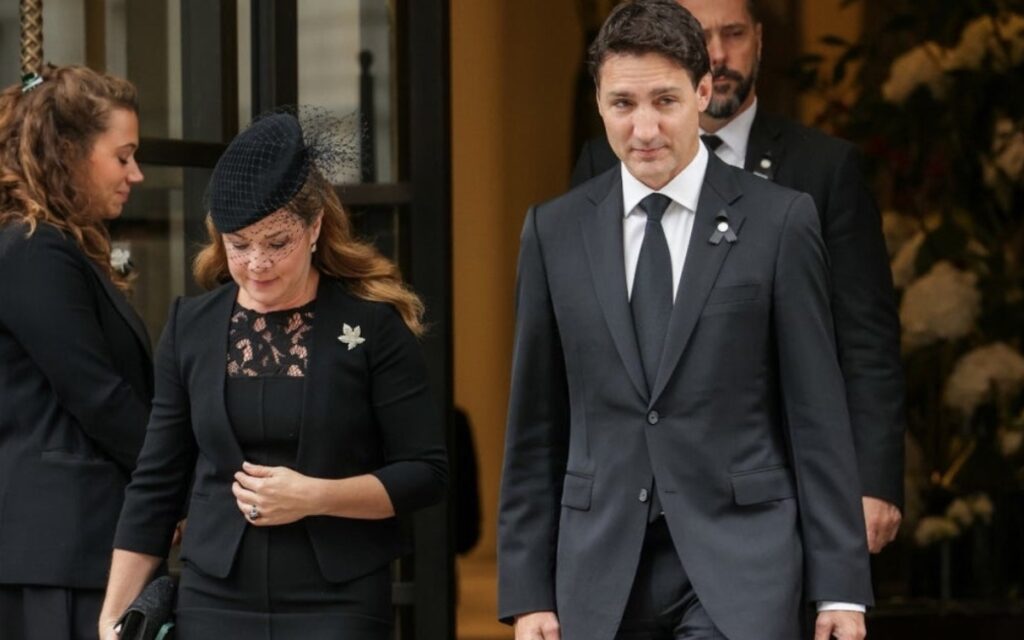 Though perhaps awkward and embarrassing, the Prime Minister's drunken rendition of the 1975 British rock classic, sang while in the U.K. for Her Majesty's funeral, is hardly his most consequential blunder made overseas in recent years. Photo credit: Getty Images via Inside Edition
The fall session of Parliament kicked off this week, as Members of Parliament flooded into the Ottawa airport from all corners of the country in anticipation of taking their seats in the House of Commons.
While the faceoff between newly minted Conservative Leader Pierre Poilievre and Justin Trudeau was supposed to be the main attraction, Thursday's Question Period failed to garner anywhere near as much attention as a video of the Prime Minister belting out Bohemian Rhapsody, on the eve of the Queen's funeral in England.
To say outrage ensued over the 14 second video, frankly, would be an understatement. 
The Daily Mail's headline read "'Drunk' Canadian PM Trudeau is slammed as a 'tone deaf embarrassment' for singing Queen's Bohemian Rhapsody at London hotel before Elizabeth II's state funeral."
Meghan McCain, daughter of late senator and former presidential candidate John McCain, chose to take her feelings directly to Canadians. McCain penned an op-ed in the National Post criticizing the Prime Minister's behaviour and stating that he offended millions as the world mourned the Queen's death.
The words on social media were no kinder to the Prime Minister, and it was increasingly clear as the week dragged on that you were either with him or against him. 
But having perspective in the matter is important. 
Justin Trudeau has made serious and significant missteps on the international stage over the last several years. Prior to the COVID-19 pandemic when trips overseas had been a regular occurrence, there was a running joke amongst Conservative political staff that you needed to get your popcorn ready anytime the official plane was fueled up because it was only a matter of time before the Prime Minister made some error in judgment.
After all, this is the same Prime Minister who invited Jaspal Atwal, a man convicted on charges of attempted murder, to a reception during a trip to India where the Liberal government was supposed to be focused on deepening ties between the two countries. The incident made national and international news for weeks, and in addition to being a major embarrassment, brought into question serious risks that undermined Canada's security services.
Then there were the meetings on the Trans-Pacific Partnership in Vietnam in 2017, where the heads of 11 countries were working to hammer out a revised trade pact. Media had reported that talks had stalled, and that the Prime Minister was at the centre of the drama when he failed to show up at the scheduled time to meet with other world leaders. As was reported, he chose to take a meeting with Facebook instead, and the Australian trade minister at the time accused him of trying to sabotage the talks.
These screw ups had real life consequences, and they hurt Canada's reputation on the international stage. But Trudeau singing over a piano on a Saturday night?
It was cringey, sure. Embarrassing even. But there were no trade talks at stake, and Canada's ability to do business hasn't been compromised as a result of this latest gaffe. Other than Trudeau's ego, no one was hurt in the aftermath of the Prime Minister's awkward take on bohemian rhapsody.
This was an unnecessary distraction, and politicians, media and the public would do well to move past it and get back to focusing on ensuring there is a spotlight on the many challenges facing Canadians.
Josie Sabatino is a Senior Consultant at Summa Strategies, focused on providing strategic insight and helping clients meet their objectives in an ever changing and complex political and regulatory environment. Prior to joining Summa, Josie spent nearly a decade in political communications and most recently served as the Director of Communications to the Hon. Erin O'Toole, former Leader of the Official Opposition.